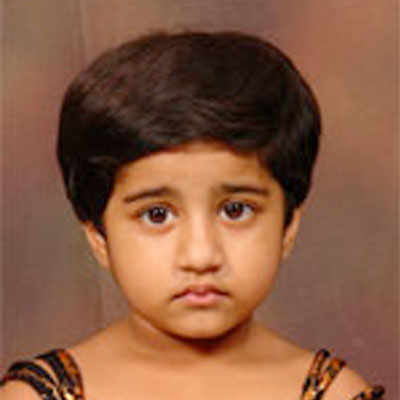 Shining Star lost in the galaxies – Yuvika Garg was born on October 19, 2004 in Punjab (India). She was the only child of her parents. She was an astonishing child as she never been adamant and never demanded anything from anyone, though her parents, loving her this kind of nature, themselves, bought colors and chocolates for her. She was excellent in studies and love colors and drawings very much.
Yuvika never suffered any serious health problems. However, on November 28, 2009, she got mild fever and stopped eating anything. She was feeling lethargic; her pediatrician treated but after two days, she was declining. On December 1, 2001, tests showed that she might have the flu and her doctor recommended she go to Apollo Hospital in Ludhiana. By that time, Yuvika was having problems breathing.
On December 2, 2009, additional tests were performed; her x-ray showed clouding and she was put on oxygen. They said that she had pneumonia that was progressing quickly.
Yuvika was transferred to Sir Ganga Ram Hospital in Delhi on December 3,2009. Her parents were feeling increased distress as Yuvika continued to decline. Soon thereafter she was intubated and mechanically ventilated. She received IV fluids and antibiotics but became hypotensive the next day for which ionotropic support was given. Her ventilatory requirement kept increasing each day.
After two days, she developed pneumothorax for which chest tube was inserted. Surfactant through bronchoscopy was also tried but her ventilatory requirements had not decreased. A test for swine flu was negative and amantadine was given for influenza A.
However her all other major organs like heart, kidneys and liver were functioning well even after 45 days on ventilator, with no other infection caused by ICU treatment. But Yuvika's state was deteriorating and showed no improvement in her lung condition. Her chest tube was removed but after only 24 hours, both lungs collapsed and chest tubes were again inserted. She also had a tracheostomy. Her platelets were low and she suffered cardiac arrest. Though they were ready to airlift her to Chennai for ECMO, doctors were concerned about moving her so far while on a ventilator. She had been wavering between life and dealth for 53 days on the vent.
On January 27, 2010 a brain scan showed her brain to be dysfunctional. Yuvika's sweet story came to an end on January 27, 2010. Yuvika closed her eyes and her helpless parents, with tears in the eyes, saw their dying daughter. Yuvika's father said: "This is world's most painful and difficult thing to see your child dying slowly in front of you and being completely unable to provide any help. Their life goes into the dark and squeezes to Yuvika's memories." He wants to share the most touching story of his brilliant daughter's life that ended too soon.