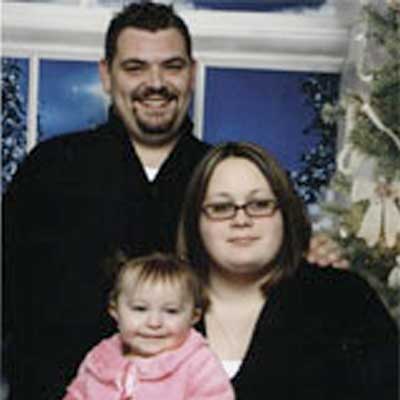 Kristiana Creamer was 22 years old when she learned that she was pregnant. Everything was going fine with her pregnancy, until she was at 18 weeks. Kristiana awoke on May 13, 2007, which was Mother's Day and had difficulty breathing.
At first she thought it was just her asthma, so she tried some breathing treatments at home but nothing help. Later that day, Kristiana decided to go to the hospital; she was vomiting and really struggling to breath.
Kristiana was sent from her home town hospital to OSU Medical Center in Columbus Ohio. She spent a few hours in the ER before being sent to the MICU because her oxygen was too low. She had to be put on a ventilator and forced into a drug induced coma. Kristiana's mom and husband were by her side the whole time.
Kristiana was on the vent for 13 days and recalls having the most odd and vivid dreams. Kristiana thought she could see her family but they told her she had not; she just heard them.
During her hospitalization, her body started to retain fluid and started to swell. In addition her blood pressure was rather high, as well as her temperature and she required cooling blankets. X-rays were taken everyday but she remained unchanged, until the twelfth day. And then suddenly, they said her lungs improved and she was better. They extubated Kristiana and woke her. She had no idea what had happened, only remembered going to the hospital. Best of all, they said that the baby showed no signs of stress. A few days after she was moved from the ICU, she had sharp chest pains.
They did a CT and said she had 2 Pulmonary Embolisms and started her on Lovenox immediately.
A few days later, she got dopplers on her legs just to be safe and found out she had three dvt's in her right leg also. When she was discharged out of the hospital she was very weak. She took physical therapy for 2 months. Kristiana stayed on the Lovenox until Kristiana delivered her daughter on October 1 2007. Her daughter was healthy and beautiful. Kristiana has been on Coumidin since then and soon will be off of it. She is thrilled that her daughter, now eighteen months, is doing well. Further, doctors say that Kristiana's Health is good; she is working as a STNA and is in college for Nursing. Kristiana hopes to help people the same way others helped her.