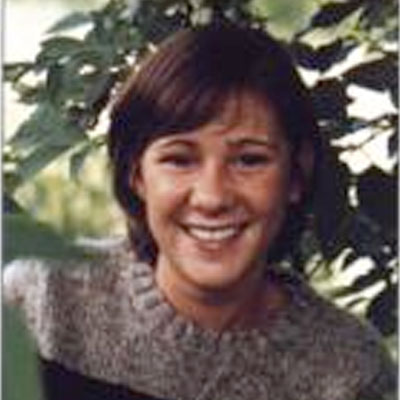 Courtney was the perfect daughter. She was loving, caring, sensitive, giving, unselfish, beautiful, trustworthy, and athletic. For having just turned seventeen, she was mature beyond her years. Courtney was very popular, not only with the "in" crowd, but with everyone else. She would search out lonely souls, put a smile on their faces and into their hearts. It did not matter if they wore black chains, preppy clothes or were nerds.
It was Courtney's seventeenth birthday on May 18, 1999. She was going to be spending a couple days at the neighbors, taking care of their 2 children, while the parents were out of town. Courtney's beautiful brown eyes revealed that she was not feeling well but she would not back out of a commitment. The family shared her birthday, and Courtney confided that this was her most special birthday she had ever had.
Courtney worked at the family's Chiropractic Clinic and also for an Internal Medicine Doctor, greeting patients and bringing them back to exam rooms. But at work, she was not herself. Finally, on June 4th, she saw her doctor.
Dr. Marsha did a blood work up and confirmed that Courtney had Mono. Courtney went on antibiotics to kill the sinus infection and was told to 'slow down,' but once the medications took effect, there was no slowing Courtney down. She always wanted to live life to its fullest.
On June 30th, it was Courtney's younger brother, Kyle's 9th birthday; the family was over to celebrate. Although Courtney obviously did not feel well, she kept this to herself.The next morning, the family was driving from Wisconsin to North Carolina.
The family got up and started the drive at about 3:00 AM; throughout the early morning, Courtney's Mom, Colleen know that there was something wrong with her daughter and made several calls to the physician. Courtney barely ate and she looked so sick. At about 6:00 PM, they arrived. Courtney was able to drink 7-Up and eat toast. Colleen shared a room with Courtney so she could check on her throughout the night.
At 6:00 AM when Colleen woke, Courtney told her Mom that she had been awake since 3:00 AM; she said that her shoulder and collar bone hurt. Colleen felt that Courtney had pneumonia but her husband, Jim had listened to her lungs many times and they sounded clear. Colleen and Jim went out but called many times to check on Courtney.
They called to doctor again as well and another prescription was called in for Courtney. When they arrived with the medication and Courtney's favorite bread, Courtney ate some, but could not keep the food down. This frightened Colleen and Jim. Colleen explained to Courtney that she had no fluids in her system and if she became dehydrated, she would need to go to the hospital; since there was company, they devised a signal for her to indicate that she needed to go to the hospital. If she did, Courtney would pound on the wall of the room she was in.
Within minutes, Courtney was pounding on the wall. They went to Haywood Regional Medical Center's Emergency Room, where they were told that her lungs sounded fine. But she was still breathing rapidly, so they took a chest x-ray. After what seemed like hours, they told the family that all four of Courtney's lobes in her lungs were filled; they had never seen anything like it.; Initially, they predicted a three to five day hospital stay for pneumonia.
The next morning, at 7:00 AM, Courtney was getting worse. She was transferred to ICU and after asking for some paper, she wrote:
1. "I love you guys so much if anything were to happen tell that to everyone."
2. "Do you think at some point you could call Zach?" (Her boyfriend)
Colleen called Zach, who was in disbelief, and asked if Courtney had complained about anything when they had spent the day together swimming; he said that she did mention once that she said that her lungs did not feel right.
Courtney was transferred to Missions St. Joe's Hospital, a larger facility, by ambulance; the crew let Colleen sneak in the back since she had promised never to leave her daughter's side. Jim met them at the hospital.
Once at the hospital, they were trying as hard as they could, not to have to put Courtney on a respirator, while trying to figure out what was causing her to be so sick. But eventually, they had to intubate her. They mentioned ARDS but said that would not happen to Courtney. Courtney was also heavily sedated. Surgery was discussed, contemplated and then rejected. Courtney coded a number of times. The physician who headed up her case had become emotionally involved, others had told the family, not sleeping and calling the hospital every two hours for a status on Courtney's condition.
People were traveling from Wisconsin to North Carolina. Courtney's brothers were picked up by neighbors, but said their good byes, not knowing what would be. Christopher, age 16 had prayed beside Courtney's bed and had asked her if he could take her place with this horrible sickness. He said to her that she was always helping people and looking out for them, it would be so much easier if he were to die instead of her. Chris and Courtney were always close, only thirteen months apart, they shared everything. Kyle told Courtney that he loved her, and that was the last time that Colleen saw his blue eyes sparkle.
When the boys arrived home in Wisconsin the house and yard were filled with friends of Courtney's. They were holding a prayer session. We were told there were 150 kids and a Lutheran Minister. We were told the baseball games at home were stopped for a moment of silence and the kids would come down from the bleachers and kneel on the field.
At the hospital, the doctors decided to try an experimental drug that only few hospitals were authorized to use, Nitrite Oxide. Initially, they thought it may be helping Courtney, but in reality, it did not. The physician had gone over it in his mind, whether he should use the Oscillator on Courtney. It is used in pediatric patients, but was not sure how Courtney would react to it. They decided to give it a try, but both doctors came out of her room and said that they were sorry, they had hurt Courtney. They ended up draining Courtney's lungs and did some other procedures on her. It was Friday.
On Saturday morning, Colleen and Jim decided to have Courtney's respirator turned off. They knew at that point that she was brain dead, as the oxygen level had gotten as low as 20%. Dr. Cummings wanted to be there. He arrived within 20 minutes, along with Courtney's main respiratory specialist. Jim stood on one side of Courtney and Colleen on the other and held her small hands. There was a minister, her doctor from Wisconsin and her respiratory specialist. We were making a Circle of Love around Courtney as we watched her take her last breath.
Jim and Colleen lost their daughter, Courtney to ARDS on July 10, 1999. It has been over three years since they last held her hand. As time goes by, it seems to get more difficult to live without her. She was a healthy, happy, athletic girl who had just turned 17. She was a gift from God, and now He called her back home. It was Courtney's dream to be a pediatrician. She hoped to find a "cure for all disease" in her lifetime.
Colleen and Jim maintain communication and friendship with Dr. Cummings. After Courtney died he wrote to us and told us it was his birthday on the day she died.
Memorials have been built in Courtney's honor. In the subdivision of six houses we have an island/circle at the end of our road that we can drive around. There is a tree along with sixty-one stepping-stones that Courtney's friends made out of cement. They had written "Courtney's sayings" and Bible verses. Some have pictures. Some have special items placed in the cement. Around the patio of stones are perennials from everyone's garden. The kids bought a cement bench and had it engraved with Courtney's name, birthday and death day. The kids also made two wooden benches.Her friends often go out there. While out there at night it is not unusual for them to see falling stars and feel the warmth of Courtney's presence.
The Wisconsin Junior Racing Team, every year, has an annual "Courtney's Run" and Cedarburg High School Varsity Volleyball team retired Courtney's #5 jersey and each year gives out "The Courtney Shelstad Heart Award."
The High School has a beautiful rock with Courtney's name and 1982-1999. It stands tall and strong as Courtney stood with her beliefs. There is a picture of her that an artist etched out of black marble. It was placed into the rock. The rock has Courtney's writings:
"Today a new sun rises for me, everything lives, everything is animated, everything seems to speak of my passion, everything invites me to cherish it…"

"The only love we give away is the only love we keep."
                                                                                                         
Courtney's Poem
Too often we don't realize what we have until it's gone.
Too often we wait too long to say, "I'm sorry" or "I was wrong."
Sometimes it seems we hurt the ones that we hold dearest to our hearts.
And we allow stupid things to tear our lives apart.
Far too many times we let unimportant things get in our minds.
And by then, it's usually too late to see what made us blind.
So be sure to let people know how much they mean to you.
Take the time to say the words, before your time is through.
Make sure you appreciate everything you've got.
And be thankful for the little things in life.
Written by Courtney S.