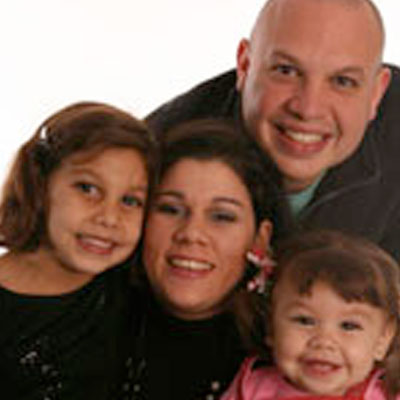 On August 7, 2009 I was very sick with fever, body aches, cough and sore throat. I went to the Dr. and he tested me for the flu, but the test came back negative, and he gave me a prescription for cough. Two days later I went back to the Dr. because I was still sick, and the cough got worse. He prescribed me antibiotics and I went home. Later that night I started coughing blood, and the cough would not stop, so I went to the ER at Mease Countryside Hospital on August 14. The Drs. told me I had pneumonia, and that I was going to be there for 4-5 days.
The last thing I remember was that the Drs. decide to intubate me because I was not retaining oxygen. The treatment with antibiotics showed no improvement, and the Dr. came to talk to my husband Andres with the Chaplin, and explained to him that they had done everything they could to help me, but I had a lot of fuid in my lungs. The pneumonia was really bad; at that point I was diagnosed with ARDS (Acute Respiratory Distress Syndrome), only 40% of people with this disease survive, and the only option they had was to place me on a ROTOPRONE bed, which is a bed that rotates, and takes the pressure off the lungs, but the Dr. didn't know if the bed was going to work because she had never used it before.
I was on a medically induced coma for 12 days, and 5 days on the ROTOPRONE bed. When Andres was told that most likely I was going to die, and he prayed with the Chaplin at the Hospital; GOD told him not to feel afraid, because fear doesn't come from Him. Andres and my family and friends started to pray all the time for my recovery. After the treatment with the bed started, I began to show improvement, and on August 27 (Andres' bithday) I woke up from the coma. The Drs. did a traqueostomy, and I was hooked to a ventilator,
I also had a feeding tube on my stomach, and a lot of IVs and monitors over my body. I didn't know anything that happened, and I thought I was going home that night.
Then my family told me the story like 3 times. Since that day I started to appreciate more important things in life, like the air that God gave us to breathe, the water that we drink every day, and the food that we eat.
I didn't realize how good it feels to take a shower every day, and to go to the bathroom. To spend time with my husband, two daughters, family and friends, and to be able to see the sun shining every day. I also didn't know how many people appreciated me. My sister set up a website to keep everyone updated, and a lot of friends, family, and friends of friends left hundreds of messages for me, and prayed for my recovery. We did two prayer circles, one to save my life and one to thank God for the miracle that he did and a lot of people from my country Colombia, and friends from all over the world prayed together at the same time.
After 6 weeks since I left the hospital and the Dr. told me I can have a normal life. Before I left the hospital, on of the Drs. that took care of me said the only thing he didn't check was my hair, and all my organs are working. Everyday is thanksgiving for me, and I now enjoy every day more, it also helped me strengthen my faith and many people have told me that my experience helped them to get closer to God, so it feels God that all the pain that my family and I went thru was for a purpose.