Question from Kimberly: March 1, 2021
My brother was admitted to the hospital with covid19. He had some trouble breathing. The doctors say that he Has developed a lung infection and his lungs are now white. He is still struggling to breathe. Can you please help me with the questions I should ask the doctors and what treatments we can request for him? I am Lost and confused and don't know what to do. Please help and thank you in advance for your help and time.
Doctor Response: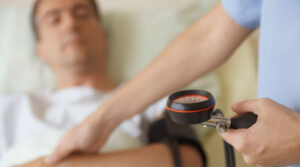 It is so difficult when faced when a family is faced with this. You should ask the doctors what treatment options they have available at the hospital for this kind of COVID19 pneumonia. Do they offer steroids and prone positioning What about ECMO – when would they consider ECMO as an option for the patient (if he or she meets the criteria). Also should ask about any clinical trials that are ongoing at the hospital that he/she could be enrolled in. This is a long process and will require patience and hope, with frequent communication with the providers.
Negin Hajizadeh MD, MPH (Her, She, Female) (pronounced Neg-in Huh-jee-za-deh)
Director of Decision Science
Center for Health Innovations and Outcomes Research (CHIOR)
Associate Professor of Medicine
Department of Medicine Division of Pulmonary Critical Care and Sleep Medicine
Donald and Barbara Zucker School of Medicine at Hofstra/Northwell
Feinstein Institute for Medical Research
______________________________________________
ARDS Foundation invites those in the ARDS Community to ask general questions related to acute respiratory distress syndrome (ARDS), the complications that surround ARDS, as well as issues that occur as a result of Post Intensive Care Syndrome (PICS).
Each month a specialist will address issues of concern surrounding the question. Periodically, a specialist may recap current research related to ARDS.
_________________________________________________
Disclaimer: The Content is not intended to be a substitute for professional medical advice, diagnosis, or treatment. Always seek the advice of your physician or other qualified health provider with any questions you may have regarding a medical condition.