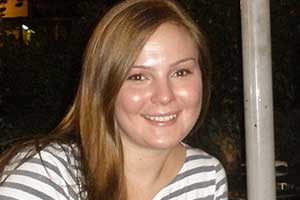 Help Anne Mahlum's family and friends raise funds for medical research of ARDS.
Anne Mahlum grew up in Florida, the daughter of Hulda and Dick Muhlum. She graduated Fort Walton Beach High School in 2004. She attended the University of Alabama and graduated with a Bachelor's Degree in Finance in 2008; in 2009, Anne received her Master;s Degree in Financial Engineering. Upon her graduation, Anna began working for SunTrust Corporation in Atlanta.
Anne had a great love for traveling and planned a trip to Barcelona, Spain with her long time friend, Leah. They arrived in Barcelona on September 1, 2010. Prior to her trip, Anne had been feeling run down. She began to feel worse upon her arrival in Barcelona. Anne spent the first few days in her hotel room, fighting flu like symptoms Leah took Anne to the hospital on September 4, 2010 where she was immediately admitted.
Anne's doctors struggled to determine was exactly was wrong with Anne, but in the meantime, she was put in a drug induced coma and on a ventilator. Anne's parents, Hulda and Dick Muhlum, traveled immediately to Barcelona and stayed by their daughter's side. Anne's physicians finally diagnosed her with Acute Respiratory Distress Syndrome (ARDS). Anne had dialysis, was on ECMO for over 40 days, and her physicians placed her in a trial for Mesenchymal Stem Cell for lung regeneration.
Although Anne's parents, family, and the wonderful medical professionals in Barcelona did everything within their power to fight for Anne, on October 25, 2010, twenty four year old Anne Muhlum lost her battle with ARDS.
Dick and Hulda, who live in Florida, do not want their daughter's passing to be for naught. They are vigilant in their passion to make sure that important and relevant medical research continues into Acute Respiratory Distress Syndrome. To join Team Anne and ARDS Foundation and make a difference in the fight against ARDS, make your donations for medical research.
$33,000 of $200,000 Raised